Afterpay


About Using Afterpay at Our Online Pet Store
Short on cash but you need your pet products now? Afterpay saves the day! Our online Afterpay pet store makes your purchases manageable by breaking them down into 4 smaller fortnightly payments. It's like lay by, but better. Get the pet supplies you need immediately from our online pet shop with Afterpay instead of waiting to pay them off.
What Type Of Pet Products Can I Pay For Using Afterpay?
Some of the popular products that customers use Afterpay for are dog supplies including dog food, dog flea, tick & worming, dog beds, dog collars, dog bark collars, dog toys, dog kennels & dog health care products. Cat supplies including cat toys, cat flea & worming, cat scratch posts, cat food & cat collars. Aquarium supplies including aquarium filters, aquarium air pumps, fish foods & aquarium water treatments. Also people use Afterpay for reptile supplies, bird products, small animal products, hermit crab supplies and horse products.
Benefits of Afterpay

Afterpay allows you to pay for your order fortnightly
Your order will be shipped immediately, just like a normal order
You can use it for all order up to $1000.00
What Do I Need
You will need the following to use Afterpay:
A debit or credit card
To be over 18 years of age
To live in Australia
How Do I Use Afterpay at Checkout?
All you need to do is select Afterpay as your payment method on the checkout page of our online pet shop and enter your details with Afterpay when you are one. It's quick and simple!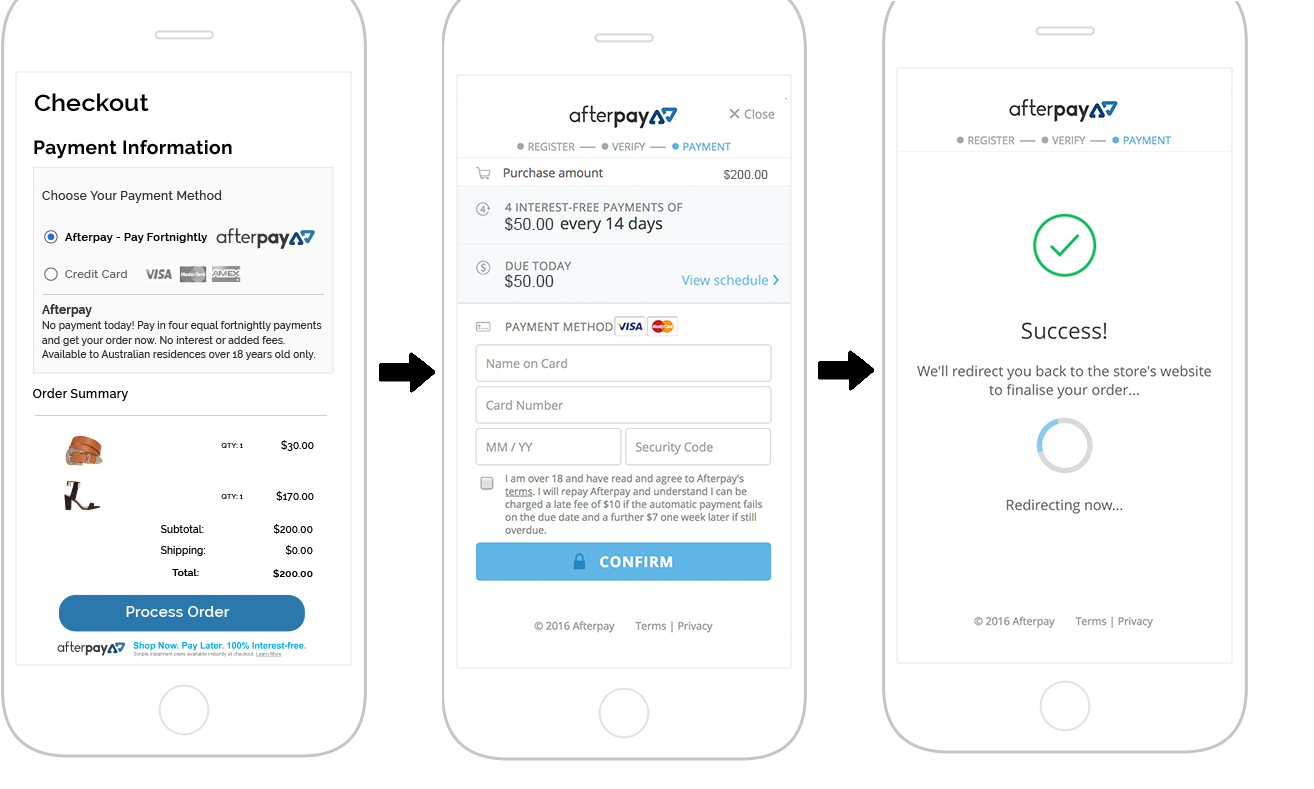 The Terms
The payment arrangement is made with Afterpay and they will approve payments at the time of your order. For first time Afterpay customers the first payment will be charged at the time of purchase. Existing Afterpay customers, first payment will be charged 14 days from the date of purchase. The full payment schedule will be provided to you at time of purchase.
If you wish to return your items you can choose to receive an exchange, or the Afterpay payment plan can be cancelled so you pay nothing.
If you fail to make a payment you will be charged a late fee of $10.00 and if still overdue an additional $7.00 will be charged one week later.
Credit limit varies from customer to customer. You may not be approved for the full AU $1,000.00 amount. Contact Afterpay for more info.
Get products & supplies for dogs, cats, birds, aquariums, fish, reptiles, small animals with Afterpay.