Revolution for Dogs Flea & Heartworm Control
Buy Revolution for dogs flea and heartworm treatment online! Revolution for dogs will treat for adult fleas, flea eggs, flea larvae, heartworms, ear mites and sarcoptic mites. Revolution for dogs is made by Pfizer Animal Health, who are one of the most trusted names in pet medicines. We sell Revolution in 4 different quantities; 3 packs, 6 packs and 12 packs. Each capsule will last one dog for one month. Revolution has 5 weight ranges for dogs, each weight range will have a certain coloured packet associated with it; Pink for puppies up to 2.5 kgs, purple for dogs 2.6-5 kgs, brown for dogs 5.1-10 kgs, red for dogs 10.1-20 kgs and teal for dogs 20.1-40 kgs.
---
Revolution for Dogs Information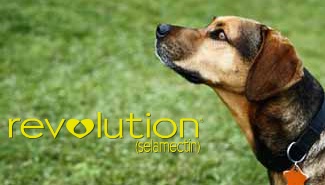 Buy in single dose, 3 packs, 6 packs and 12 packs
Can be used on puppies from 6 weeks of age
Kills adult fleas, flea eggs and flea larvae
Treats, controls and prevents flea infestations
Prevents heartworm disease
Treats and controls ear mites
Treats and controls sarcoptic mange
Comes as liquid form in capsule
Each capsule lasts 1 month
Uses Selamecin at a minimum of 6mg Selamectin/kg body weight
Waterproof 2 hours after application
Your dog should be tested for heartworm before use
For instructions and safety directions see Revolution (SELAMECTIN) Product Information
Made by Pfizer Animal Health
You can also purchase Revolution for cats
Revolution dog comes with FREE Canex worming tablets that treat for all intestinal worms
---
Checkout with Visa, Mastercard, American Express, Afterpay or zipPay.