Comfortis for Dogs Flea Control Tablets
Comfortis for dogs is a chewable flea control tablet. Comfortis flea pills starts working within 30 minutes by killing fleas, preventing flea infestations and controlling flea allergy dermatitis. Comfortis comes as a small chewable flavoured tablet and is made of the active ingredient spinosad. It is administered monthly and given with a meal. This pet product is made by Elanco Animal Health, who also make Panoramis/Comfortis Plus for dogs. We sell Comfortis for dogs in 3 quantities; single doses, 6 packs and 12 packs. Each flea pill will last 1 month at a time. Comfortis has 5 weight ranges for dogs, each body weight range will have a certain coloured packet associated with it;pink Comfortis for dogs 2.3-4.5 kgs, orange Comfortis for dogs 4.6-9 kgs, green Comfortis for dogs 9.1-18 kgs, blue Comfortis for dogs 18.1-27 kgs and brown Comfortis for dogs 27.1-54 kgs. Buy Comfortis for dogs flea tablets online at the best and cheapest price!
---
About Comfortis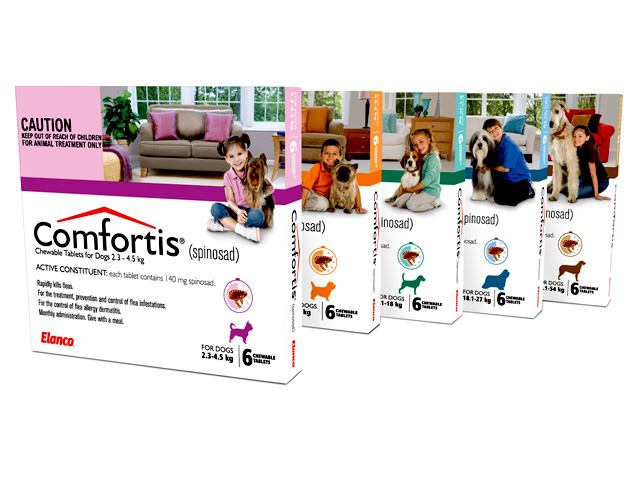 Comfortis is a small chewable tablet made with the ingredient spinosad.
Buy in single dose, 6 pack or 12 pack.
Comfortis can be used on puppies from 14 weeks of age.
Treats for fleas, flea infestations and flea allergy dermatitis.
Each Comfortis tablet last 1 month.
Store below 25 degrees Celsius.
Comfortis also produce Comfortis Plus for Dogs.
For instructions and safety directions see, Comfortis Label and Instructions.
We do not ship this product to the United States.
Buy Comfortis cheap online.
---
Checkout with Visa, Mastercard, American Express, Afterpay or zipPay.