Revolution for Cats Flea & Heartwom Control
Buy Revolution for cats flea and heartworm treatment online! Revolution will treat cats for adult fleas, flea eggs, flea larvae, ear mites, heartworm, hookworms and hookworms. Revolution cat is a topical treatment and uses the active ingredient SELAMECTIN. Revolution flea & heartworm control is made by Pfizer Animal Health. We sell Revolution for cats in 3 packs, 6 packs and 12 packs. Revolution in 2 weight ranges for cats, each weight range will have a certain coloured packet associated with it; pink for small cats and kitten up to 2.5 kgs and blue for cats 2.6-7.5 kgs. Buying Revolution for cats flea & heartworm control online at a cheap price is made easy here with us!
---
Revolution for Cats Information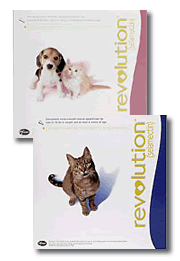 Buy Revolution in a 3 pack, 6 pack or 12 pack.
Revolution can be used on kittens from 6 weeks of age.
Kills adult flea, flea eggs and flea larvae.
Controls flea infestations and flea allergy dermatitis.
Prevents heartworm disease in cats.
Treats and controls hookworm, roundworm and ear mites.
Waterproof for 1 month, 2 hours after application.
Topical treatment with each capsule lasting 1 month.
Contains the active ingredient SELAMECTIN.
Cats should be tested for heartworm before using this product.
Revolution also make Revolution for dogs.
---